OIC
Oracle Integration Cloud
Integrate, Automate and Transform. OIC, a leading solution, according to the main market analysts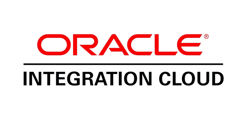 Boost your digital transformation dramatically by taking advantage of the full potential of Oracle Integration Cloud (OIC), a suite that will allow you to solve countless business problems, both technical (integration of systems and applications) and operational (master data management, automation of processes and workflows, etc.), in addition to giving you the ability to create modern applications for your users to interact with your processes in an agile and intuitive way.
What is Oracle Integration Cloud Service?
Oracle Integration Cloud is an Oracle iPaaS solution that allows us to manage in the cloud both business processes and applications fully integrated with your business.
It's a platform that connects EVERYTHING!!!. And it easily runs any cloud or local application.
This platform is perfect for extending your existing systems, providing the ability to generate business processes or applications in the cloud 100% integrable, in a cloud environment:

Great Performance

Easy Procurement

Very high scalability
Once upon a time, these products were available separately in the cloud, but now they have improved substantially and are part of a unified platform.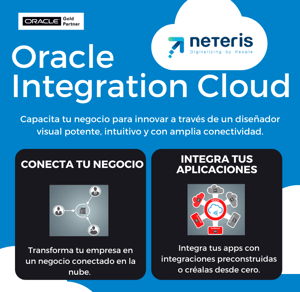 Why is OIC one of the leading integration solutions
?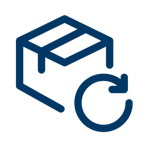 >80 Connectors Prefabricated and available to use
Oracle Integration offers you more than 80 pre-built adapters ready to be used with the main corporate applications and technologies in the market.

You will be able to connect SAP with Salesforce in a matter of minutes, connect your payment gateways with Paypal immediately or access any DB in the market through native connectors (Oracle, SQL, etc). And these are just a few examples of the potential and versatility that this suite can offer you.

Building forms and applications to accompany your corporate processes and workflows has never been as easy and intuitive as with Oracle Visual Builder, one of the components included in the OIC suite that will make your users have an unbeatable experience.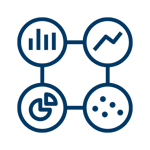 Digitize Processes quickly and intuitively
With Oracle Integration Cloud you can automate all those processes in your organization that you want to manage digitally and that for various reasons always end up being managed by an "endless" number of emails and scattered documents.

Examples such as the "Registration of a New Employee" or a "New Contract" are associated with complex tasks and approvals to follow and end up becoming a headache when we try to organize them. With OIC all these workflows find a digital repository where they are designed, governed and monitored to have end to end control, without code, and with everything you need to measure and optimize your workflows.

If you also want to include RPA technologies so that certain tasks are executed by BOTS you can do it almost automatically.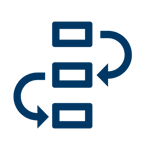 Integration Process Templates
Oracle Integration Cloud also facilitates the deployment of the integration flow between Oracle and third-party applications, following best practices and facilitating the understanding of the applications to be integrated by machine learning to map the source data with the target data.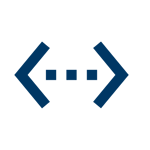 Connect, Automate and Extend
Learn how to integrate all types of applications, systems, data and business processes with the most complete enterprise suite on the market.
It's a platform that connects everything!
1.
Sectors where we have implemented ICOs
2.
Roles that have benefited from this integration and automation solution:
At Neteris we recommend CLOUD Process Management, as it is the best way for us to enable change and move forward, faster, by creating more flexible, intuitive and data-driven organizations that use their processes as a true lever for improvement and optimization.
In addition, Neteris is a certified company and appointed as a Digitalizing Agent as part of the Digital Kit initiative of the Government of Spain, with which we can help in the digital maturation process of your company.